Building a Family Legacy: Vida Poole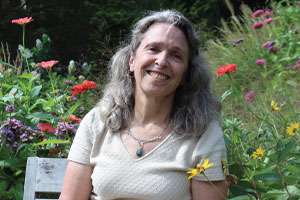 © The Trustees
For more than 150 years, Vida Poole's family lived on, worked on, and cared for more than 200 acres of land on Martha's Vineyard before donating it to The Trustees, creating two Trustees properties—Menemsha Hills and The Brickyard—and a legacy of conservation that will live on forever.
Vida's great-grandfather, Nathaniel Harris, purchased the land in Chilmark in the 1860s, including the brickworks that produced more than 2 million bricks a summer at the height of its operation.
The brickworks ceased operation in the late nineteenth century, and the 18-acre Brickyard was passed down through generations of the family—eventually belonging to Vida's mother, Flora Harris Epstein. Her cousins, Nathaniel and Catherine Harris, received the abutting 211-acre Menemsha Hills property, which they donated to The Trustees in 1966.
Vida's mother, a longtime supporter of The Trustees and member of the Semper Virens Society, bequeathed The Brickyard—with its 45-foot-tall chimney, historic artifacts, and trail to Menemsha Hills—to The Trustees, which officially opened it to the public in 2020. Flora also created a charitable gift annuity, receiving the benefit of a lifetime stream of income while also ultimately supporting the Brickyard Endowment.
Thanks to Vida, her mother, and her ancestors, anyone and everyone now has the chance to experience this remarkable landscape and explore this incredible piece of Martha's Vineyard history.
© Pentera, Inc. Planned giving content. All rights reserved.
Disclaimer