Peter and Catherine Creighton's Estate-Plan Gift to Support The Trustees for Generations to Come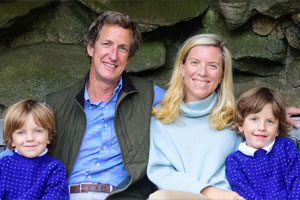 BY JEFF HARDER
While Peter Creighton was a child wandering the woods around his family's Manchester home, he quickly learned that he had certain responsibilities to the landscape. His family "adopted" a prominent trail on the North Shore; charged with keeping the footpath in good repair, Peter happily joined in clearing brush. "That stewardship instilled in us that it's not just about walking on trails and enjoying them but being an active part of maintaining properties—and being part of a movement to protect the land," Peter says.
Today Peter and his wife Catherine—who both joined the Semper Virens Society in 2019—are driven by a conviction that the future of land conservation relies on sharing nature with new generations. Peter experienced this firsthand while exploring Trustees properties with his late father Albert Creighton, a New England land conservation luminary and a Charles Eliot Award recipient who spent half a century with The Trustees.
Soon, Peter cut his own path toward the organization: years after working a summer job at Long Hill in the 1980s, he served on The Trustees' advisory board from 1996 to 1998 and on the board of directors from 1996 to 2006. Along with instituting term limits to encourage participation from younger members, Peter was involved in the Trustees' merger with the Boston Natural Areas Network—among other initiatives.
Meanwhile, after leading a conservation-focused residential development company, Peter found a new career in delivering outdoor education to urban communities. He's served as a teacher-educator with Thompson Island Outward Bound, Mass Audubon, and Boston Public Schools. Since earning a master's degree in education from Harvard University, Peter has begun developing an environmental literacy curriculum for fifth and sixth graders. "As a teacher-educator I'm hoping that if I can open the eyes of urban youth, they'll become comfortable with the out-of-doors environment," he says. "Then they can pass their experiences along to their children, in the same way that saving a piece of land today benefits future generations."
After becoming acquainted with The Trustees through her husband, Catherine joined Peter in co-chairing The Trustees' 125th anniversary celebration at Appleton Farms as well as the inaugural Snow Ball at Castle Hill in 2020. As a parent to two young children, she treasures seeing familiar landscapes, like Ravenswood and Coolidge Reservation, through their eyes. "We first visited Long Hill with them three years ago, and I wish I could have bottled their response," Catherine says. "Running through gardens navigating woody thickets, peering through iron gates—their complete delight made it even more magical."
Considering the intergenerational role that The Trustees has played, a planned gift was a natural decision for the Creightons. "The Trustees is such an important part of our lives," Peter says. "Managing my father's bequests and the real impact that they have had has made me realize the benefits of planned giving to The Trustees, even in my 50s. For us, it's a gift that lives on for the next generation, similar to my teaching."
© Pentera, Inc. Planned giving content. All rights reserved.
Disclaimer