Sharing the Splendor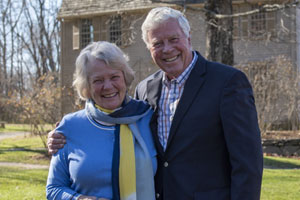 BY JEFF HARDER
Having visited more than 20 Trustees reservations across the Commonwealth, Tom Nicholson has reached a conclusion: he treasures them all. Sure, he has fond memories of certain properties—studying the modernist pinwheel of The Folly at Field Farm while a student at Williams College, picking flowers and vegetables with his grandchildren at Appleton Farms, or boating to Misery Islands. But more than any particular destination, seeing up close so many special, publicly accessible places looms largest. "Many Trustees members have specific properties that they're close to—for me, not so much," he says. "I love them all because they're all so different."
Tom, chair of The Trustees' Semper Virens Society, grew up sailing, fishing, hiking, and scouting as a child in Rhode Island.
His working life was spent in international sales and marketing for several sensor and electronics companies, traveling the world and, for the last 43 years, living in Weston with his wife Cathy and their three children. His passion for the outdoors never abated. "As I grew older and began my retirement, I realized I wanted to do more with conservation locally," Tom says. Harnessing his corporate experience, he volunteered his skills in strategic planning to the Earthwatch Institute and other nonprofits.
That path led him to The Trustees nearly 20 years ago. In 2002 Tom joined the Field Operations committee, helping create The Trustees' first strategic plan and visiting reservations across the state to determine their potential for program development. In the years since, he has served on a variety of committees, including marketing, engagement, and strategic enterprise, before becoming chair of the Semper Virens Society in 2016. It's a fitting role: Tom has been a steadfast advocate for the concept of planned giving, both for its unique tax advantages as well as its importance to sustaining the organization. "Besides volunteering, planned giving is an ideal way to involve myself in the future of The Trustees," Tom says.
Along with his first planned gift in 2005, last year Tom created a charitable gift annuity funded with securities. "Planned giving, through a charitable gift annuity, is a wonderful way to give back, keep an income stream for retirement, and support the legacy of The Trustees for me, my children, and my grandchildren." He has also used smart planning to support The Trustees annually by taking advantage of the IRA charitable rollover—a real win-win scenario: contributions count toward his required minimum distribution, and he is able to further the organization's work at the same time.
These days, sharing the splendor of The Trustees with their grandchildren is always on the Nicholsons' mind. "It's great fun to see their enthusiasm about places we want them to know about," Cathy says, recalling a few of them running up the Grand Allée during a concert at the Crane Estate. And through the years, Tom adds, The Trustees has offered a common ground for lasting friendships. "You go out walking with them, hiking with them, and all the rest, and it's so lovely," he says. "Everyone is so wonderful."
© Pentera, Inc. Planned giving content. All rights reserved.
Disclaimer