A Legacy of Inspiration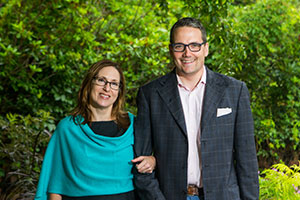 Judith Robichaud is a freelance user experience designer with an avocation for oil painting. Her works regularly depict landscapes and natural scenes. Rob Larsen is a technology architect with a passion for graffiti art. In 2015 Rob founded Art walks Boston, which offers walking tours of Boston's museums, public art, and parks. As a writer with a long professional history, Rob has published dozens of articles and reviews.
Trustees properties have been part of their relationship's scenery since before their marriage—one of their first dates was a rain-soaked stroll along the Crane Estate's Grand Allee. Whether for artistic inspiration or a break from too much screen time at the office, visiting Trustees properties proved restorative; and the couple became members of The Trustees in 2004 to explore them as offten as they could.
Their entry into the Semper Virens Society followed family tragedy. The husband of Robichaud's sister passed away unexpectedly, young, and without a will. Larsen and Robichaud decided to tie up their own loose ends and contribute to their most cherished organizations, and The Trustees' devotion to protecting working farms and sustainable agriculture made for a fitting tribute to their brother-in-law's ever-generous spirit. "It's a way that he's continued to inspire us," Larsen says.
Today Larsen praises The Trustees for helping Massachusetts preserve its natural wonders. "We still have things that were here when the Pilgrims landed: the forests, the coastline, all this green space," Larsen says. "I grew up a poor kid in one of the least green spots in Boston, and I could still know what it meant to be in nature. We still have all this ready access to green space, and it's not like that everywhere."
© Pentera, Inc. Planned giving content. All rights reserved.
Disclaimer