Handing Down Heritage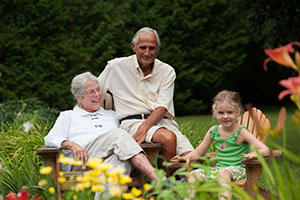 "My involvement with The Old Manse began when I was seven or eight years old," says Jay. In the 1930s illness kept the Manse's then-owners absent and the building itself vacant, but Jay's grandmother convinced them to let her open the house and charge visitors ten cents each to experience the building's rich history up close. In the 1960s Jay's late wife Judy joined the Friends of The Old Manse Committee, and today Jay continues to serve as a member of The Trustees' governance—including on The Chairman's Council and as a corporate trustee.
Jay and Judy always appreciated every aspect of The Trustees' mission, far beyond the preservation of their beloved Concord neighbor—from stewarding open space to augmenting and restoring agricultural destinations to securing oases in urban settings. "Just feeling like you're a tiny part of the overall effort is satisfying," Jay says.
By establishing two charitable gift annuities with The Trustees, Jay and Judy were able do something of lasting value to preserve the natural landscape of such importance to them while also receiving financial benefits. Judy passed away in March 2018, leaving behind a valuable legacy of her love for and dedication to various causes she cared deeply about. In the meantime, Jay continues to receive an income stream for life paid from the annuities and various tax benefits as well.
© Pentera, Inc. Planned giving content. All rights reserved.
Disclaimer