Sharing the Family Farm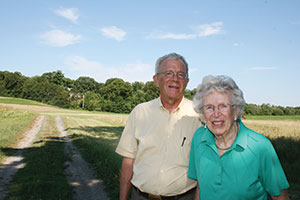 In 1966 Whitney Beals' parents, Philip and Elaine Beals, bought Chestnut Hill Farm in Southborough to save it from development. In the early '90s, the family began formally protecting portions of the property by donating pieces of land as well as the development rights to local conservation groups. In April 2010, the Beals family donated the eastern two-thirds of Chestnut Hilll Farm to The Trustees, subject to a conservation restriction. In 2018 they made a "bargain sale" of the rest of the farm to The Trustees.
The hubbub of activity at Chestnut HIll Farm today is a sea change from just a couple of years ago, when members of the public were welcome to walk the property but not so actively involved with the bounty of its land or such engaging programs and events. The transformation has made the historic farm property exactly the kind of place Whitney and his wife Pamela Esty imagined it could be when they first undertook the long process of working to preserve their family's lands as public spaces.
"My father would be really pleased if he could see the farm now," said Whitney. "My mom was 93 when she passed away in 2016, so she saw all the activity here. Even though she was in a wheelchar, she'd come over every day. She was so happy to see a wonderful young family living here and so many people enjoying the property." Pamela adds, "This town is divided by a highway; there's no real center here. When we made the property open to the public before The Trustees took it over, we expected people to come and walk the property—but they really didn't. Now, the farm has become that town center. It has become the place!"
© Pentera, Inc. Planned giving content. All rights reserved.
Disclaimer